A corporate real estate firm typically consists of representatives who specialize into corporate properties. It would not be wrong to say that one needs to look for a different breed of real estate agents when it comes to handling corporate properties. These are business focused individuals and are highly skilled experts in their niche.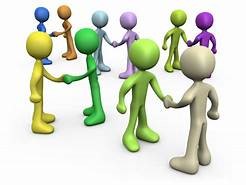 Picking the right real estate management company is the first and foremost decision one needs to make when engaging in corporate leasing, subleasing, buying or negotiations.
In this article, the sections below will help you to plan your approach to choose the right real estate company for your property that you intend to lease to brands.
Do you need the services of a corporate real estate firm?
Key characteristics of the firm.
Evaluation and Gauging phase.
Summary
An easy "Yes" or "No" Tip.
Before we deep dive into the topic, I have a question for you. When was the last time you made an investment or purchased an expensive luxury item just because you liked the sales representative???
Thinking Hard!!!
Continue reading to find the answer ????


Why do I need the services of a corporate real estate firm?
Many property owners, tenants, buyers and even corporates select someone out of their gut feel or intuition to represent them. They desire to work with someone they like, however this method of selection is often biased and is driven by basic components of a relationship. Based on this selection process, someone who listens, communicates well and is friendly would naturally be the first choice. While our friends essentially have these traits but this does not qualify them in any way as a steward of our asset. Hence, we need someone who can work beyond an intermediary or a middle man level. A professional in this field is thorough with the market trends and acquisition patterns and can help you both find as well as lease a space that best suits your requirements.
Top Qualities of a professionally run corporate real estate broking company
The first thing you want them to have is expertise in their niche. This could include the types of assets they have handled and the locations they have catered to. They need to be well connected with the industry experts and have a strong network of architects, lawyers and contractors. They should come across as sharp project managers with excellent communication and negotiation skills. You need them to have attention to details so that they understand your needs precisely.
Key Qualities of a professional corporate broking firm
Looks interesting so far! But how can we gauge these abilities in just a couple of meetings??
Let us make that easy for you. Below are a few pointers that will help you put a tick when deciding to hire the services of a corporate leasing organization.
Research and gather information about the real estate firm.
Check how old they are in the commercial leasing business.
Areas of specialization under the commercial real estate belt.
Tools and Techniques used.
Communication & Listening Skills.
Point No. 1 Do Your Homework! (Investigate)
When was the last time you went to a restaurant after evaluating its reviews on social media?
Needless to say, in this era of social media, most decisions related to e-business transactions largely depend on online reviews, feedbacks, testimonials etc. So, go ahead and research about them online. Conduct due diligence for the particular firm on your own. Visit their website, read about their work, check recommendations. This will get you started in the right direction.
Point No.2 Tenure in Business
Many real estate companies start as local service providers. There are quite a few that transition from residential to commercial real estate or sometimes both. Thus, it is important to find out how long they have been in the business of corporate renting. It takes time to build a strong network and establish relationship with valuable industry professionals, hence tenure is an important deciding factor. There are high chances for a tenured company in corporate real estate business to have seen, experienced and worked on a lot of situations like lessor-lessee conflicts, rent disbursal delays, possession challenges etc. During the course of discussion, you may want to find out what all closures they have made in the recent past, the challenges they faced and the solution they gave to their clients.
Point No.3 Specialization
Commercial real estate has a lot under its umbrella. You need to figure out where they have worked the most as there are significant differences when it comes to a commercial property in the form of an office space, a retail store, land formats, industrial spaces etc. These types of assets differ in their make and structure; hence it is obvious that the terms and conditions to be considered in the lease agreement will be unique. It is required that your real estate company is well versed with the commercial leasing terminology as it tends to change with respect to the nature of the lease.
Point No. 4 Relevant to ever changing needs
It is of utmost importance that the selected representatives have the ability to cope with the evolving technology and needs. Here, you can ask them about their approach of site selection, how they reach clients, various tools, software, marketing techniques etc. they use to maintain visibility in the industry. Contrary to Point No. 2 above, a tenured company with a good name in the market may still be following traditional approaches. But it will be in our best interest to associate with someone who can incorporate dynamic approaches as and when required. Risk Analysis, Competitor analysis, knowledge about changing tenant – buyer needs are a few topics they should have a good grasp on.
Point No. 5 Excellent Communication & Listening Skills
This is the last point in the list but it is definitely not the least. Everything falls apart if one cannot connect the dots or if the message is conveyed with jitters. Real estate business stands its ground on relationships and in order to relate it is very important to understand the language and the message of the other person. Communication skills are all the more important in commercial real estate business because there are multiple stakeholders involved. It is crucial to understand the mindsets and goals of all and accordingly communicate and convey for smooth transactions. Listening skills come into play when you want them to understand your requirements precisely and act accordingly.
So, let's summarize quickly.
A real estate firm that specializes in corporate leasing help us find and lease in a defined manner because:
They are well equipped with the ins and outs of the market trends, competition and pricing.
They know the core of the business, have a strong network and are well connected with the top leaders in the industry.
They use technology to evolve and adapt to changes in the industry.
They are good listeners, perfect communicators and great negotiators.
Are you still not sure if you want to hire a corporate real estate firm and also have difficulty whether to pick Company X or not? Here's a simple trick for you ????
Find out via network or references if someone has availed the services of Company A. Ask them two straight questions and that is all.
Check if they would like to hire the services of Company A again.
Would they refer Company A to their friends or colleagues.
These two questions cover a lot of abstract aspects besides the ones discussed in this article. An easy "Yes" to both the questions indicates that you can definitely choose Company A for your property.